Customizable Colors





Double wall Vacuum insulated for excellent temperature retention
Durable food grade 18/8 stainless steel outer and inner shell + BPA-Free parts
Safe to touch with extremely hot and cold drinks
Lightweight,compact,and portable design
Easy to use, stopper for simple one-handed pouring
Wide mouth for easy filling and cleaning






Do not overfill bottle.
Do not place bottle in dishwasher, microwave, or freezer.
Do not drink directly from bottle, pour the contents into the cup before drinking.
Add ice after you have filled the bottle with liquid.
Keep out of reach of children when filled with hot liquids.
Contents may be hot, use with care.
HB-500
HB-700
HB-800
HB-1000
7*7*24.6cm
7.8*7.8*29.4cm
8.1*8.1*29.1cm
8.6*8.6*31.4cm
45.5*38*27.5cm
41.5*33.5*32cm
43.5*35*32cm
46.5*37.5*34cm
11.02kgs/11.80kgs
10.19kgs/10.87kgs
10.46kgs/11.20kgs
12.33kgs/13.17kgs

Please wash bottle with mild detergent and rinse thoroughly before use. To remove stubborn stains, mix two teaspoons of baking soda with warm water in bottle. Let stand for an hour before rinsing thoroughly.

It is recommended to pre-heat/pre-cool the bottle before use. Fill bottle with hot/cold water and let stand for 5 minutes, then empty it and refill with desired drink.

For your health, please consume perishable drinks like milk timely and clean the bottle promptly.

To avoid sudden eruption of pressurized liquids, avoid filling bottle with carbonated drinks.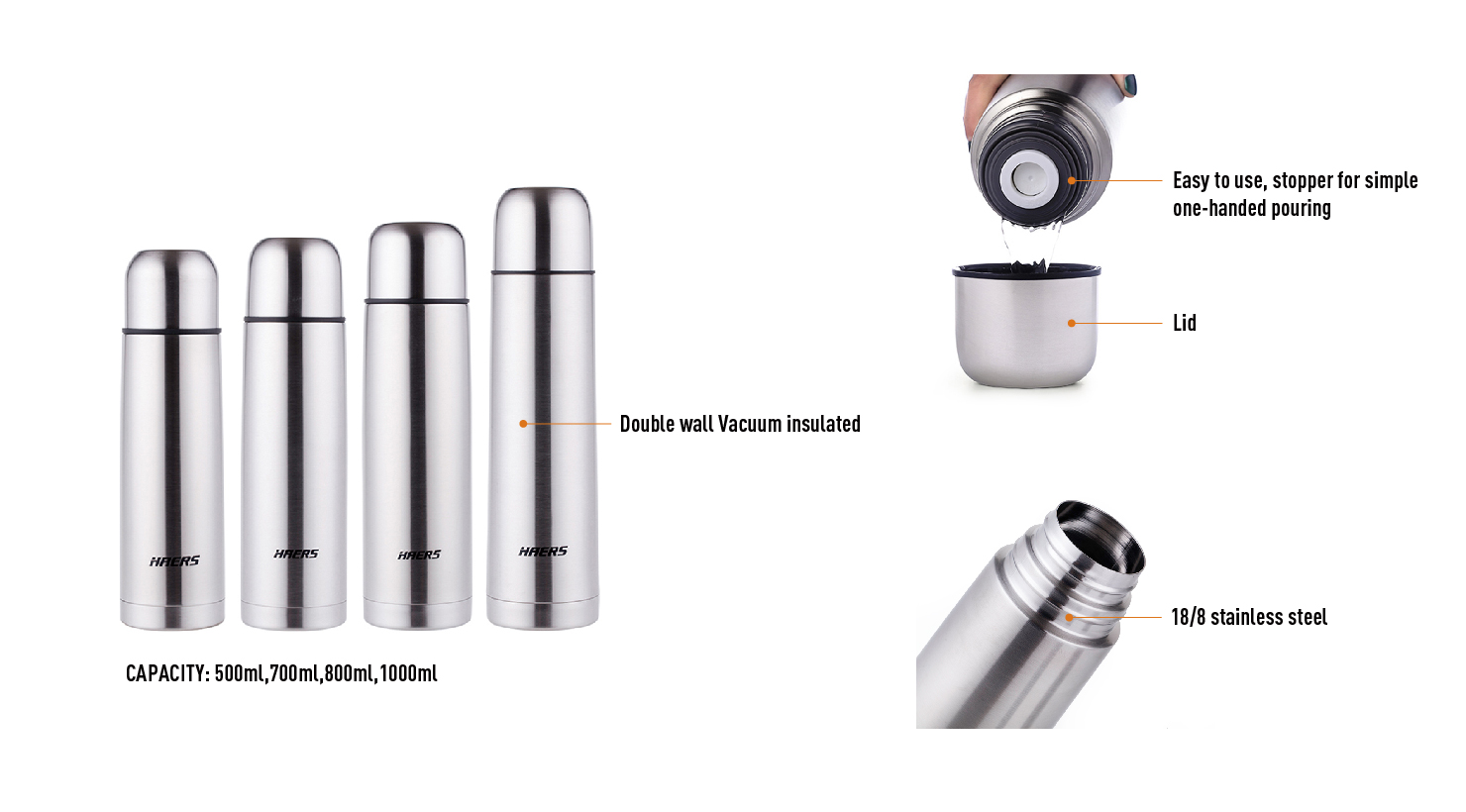 We could not find any corresponding parameters, please add them to the properties table
Copyright ? 2020 ZHE JIANG HAERS VACUUM CONTAINERS CO.,LTD